Results index

Contract tracker

Articles

Stats
Man of the match awards

What came before
Review previous campaigns covered by Cod Almighty
2011-12
2010-11
2009-10
2008-09
2007-08
2006-07
2005-06
2004-05
2003-04
2002-03



Life's a beach: Southport (a) factfile
---
Various
9 August 2012
---

Know your enemy
Town's record against...
Their facts and figures
Our facts and figures
Refwatch
Mascotwatch
Wanna bet?
Travel guide

In a nutshell
Southport won the fourth division in 1973, a year after Town won it under Lawrie McMenemy. Five years later they were voted out of the Football League. In the mid-noughties they tried going full time again. It didn't work. Last season, however, Port finished seventh – outperforming, among others, full-time Grimsby Town. Who would underestimate them this Saturday? Only a fool.

Spotter's guide: Southport are captained by Simon Grand, who played for Town in the Third Age of Buckley. Well, we say 'played'...

On t'internet
Port Online is one of those excellent unofficial sites dedicated to the entire history of a club, probably maintained in sheds by taciturn parkkeepers. Southport FC Stats is another, specialising, as the name handily suggests, in stats. It doesn't actually have any stats yet – which, it must be said, ranks as a fairly significant drawback for a stats site. But y'know, Sefton wasn't built in a day.

From the 2010 Rough Guide
"Just like our own town, Southport has all the usual amenities a northern seaside resort should have: slot machines, a theme park, miniature railway and a really, really big pier. But as most of these things will be shut after the sun goes down, you'll be happy to know that Liverpool is only 17 miles down the coast."
Read the whole of our Rough Guide to Southport





Plenty of standing room at Southport's Haig Avenue home. Photo: Peter Bonnett (cc by-nd 2.0)


Overall record: P36 W15 D6 L15 F46 A51
At Blundell Park: P18 W11 D2 L5 F28 A16
At their place: P18 W4 D4 L10 F18 A35

Full details in the results database

Previous encounter: 28 April 2012
Southport are Town's last opponents as well as their next. You remember last season, don't you? The way the players started playing too late and gave up too early? Think archetypal arse-end-of-the-season stroll; think a shit-awful 4-3-3 set-up; think Bradford City loanee Darren Stephenson ending it all with the games only goal three minutes from time, when it should have all ended much sooner. No, we've forgotten too.

If you're distressed, by the way, when the season ends before May is absurd, be aware that the final league game of the forthcoming campaign falls, preposterously, even earlier: 20 April 2013. Wtf?
Tony Butcher's match report

Last five meetings, home and away
L Grimsby 0-1 Southport (Conference Premier, 28/04/2012)
W Southport 1-2 Grimsby (Conference Premier, 17/02/2012)
D Southport 2-2 Grimsby (Conference Premier, 01/02/2011)
D Grimsby 1-1 Southport (Conference Premier, 16/10/2010)
W Grimsby 2-0 Southport (fourth division, 25/04/1978)

Last five meetings at their place
W Southport 1-2 Grimsby (Conference Premier, 17/02/2012)
D Southport 2-2 Grimsby (Conference Premier, 01/02/2011)
D Southport 2-2 Grimsby (fourth division, 27/09/1977)
W Southport 0-1 Grimsby (third division, 12/10/1973)
L Southport 1-0 Grimsby (fourth division, 12/02/1972)

How you doin'?
7th in the Conference Premier: P46 W21 D13 L12 F72 A69 (GD3) 76pts (2011-12)


Recent form
W Southport 3-1 Rochdale (friendly, 04/08/2012)
W Radcliffe Borough 0-4 Southport (friendly, 31/07/2012)
D Southport 1-1 Wigan reserves (friendly, 28/07/2012)
W Cammell Laird 0-2 Southport (friendly, 26/08/2012)
L Skelmersdale 2-1 Southport (friendly, 24/08/2012)
d Airbus UK 0-0 Southport (friendly, 21/07/2012)

Goalscoring superstar heroes (2011-12)
Tony Gray (right, 24 goals)
Shaun Whalley (11 goals)

Dirty, dirty boys (2011-12)
Alan Moogan (5 yellows, 2 red; 9 points)
Karl Ledsham (6 yellows, 1 red; 8 points)

Stat!

This will be Southport's 15th season in the Football Conference Premier.

How we doin'?
11th in the Conference Premier: P46 W19 D13 L14 F79 A60 (GD19) 70pts (2011-12)
...still treading water

Recent form
L Stalybridge 2-1 Grimsby (friendly, 03/08/2012)
D North Ferriby 1-1 Grimsby (friendly, 01/08/2012)
D Lincoln City 1-1 Grimsby (Lincs Cup, 31/07/2012)
W Barton Town Old Boys 2-4 Grimsby (friendly, 28/07/2012)
W Scunthorpe 0-2 Grimsby (Lincs Cup, 24/07/2012)
W Louth 0-2 Grimsby (friendly, 23/07/2012)

Goalscoring superstar heroes (2011-12)
Liam Hearn (27 goals)
Anthony Elding (12 goals)

Dirty, dirty boys (2011-12)
Bradley Wood (11 yellows; 11 points)
Craig Disley (9 yellows; 9 points)

Stat!

Town haven't lost an away match at Southport since 1972.

The official for the season's opener will be Sebastian 'Seb' Stockbridge from Tyne & Wear. This will be his third season as a Conference referee, so a bit of a veteran.

Seb will be fairly familiar to eagle-eyed ref spotters among the Blundell Park massive – he last graced our presence in the new year derby against Lincoln which Town won 3-1. Our reporter on the spot Tony Butcher made mention of his "strange booking of Coulson and the Manny meltdown mystery" but found favour with him on account of the fact he annoyed Imps more than Mariners. Previous appearances for Mr Stockbridge include home defeats to Stockport and Luton and a win over Kettering all in 2011. Key words from these matches are: adequacy; pernickety; and inconsistent.

In his spare time Seb is the north-east reigning champion for burrito consumption, having defeated long-standing champion Eric 'Olay' Hawley by consuming 17 mega burritos within the 30-minute time limit.

In summary, then: Yes! We have no bananas

We reported last season that Southport mascot Sandy the Lion was to be renamed in a competition held by the local paper, but we were unable to find the results. We still aren't able to find the results of the competition but we do know that the Southport mascot is now called Sandy the... Sandgrounder. And, erm, judging by the pictures he/she/it is a lion. A sandgrounding lion, presumably. A sandgrounder, according to the internet (which knows everything) is someone who was born in the sand around Southport, but is also of parents born of the sand of Southport. Pretty strict entry criteria then – it's like bloody Eton.




The big question is whether this sandy lion is much of a match for our own Mighty Mariner – famously born in the back of a cab down Ploggers to parents of dubious heritage. Well, there's only one way to find out...

The odds
Town 13/8 (William Hill)
draw 38/15 (Pinnacle)
Southport 57/29 (Pinnacle)

We say: Southport. Away. First game of the season. Optimism high and everyone raring to go. Hmm. Probably a defeat then.

Their gaff: Football Grounds Guide
Get there by car: Google Map directions
Gaining entrance: £14 to sit, £12.50 to stand
Nearest train station: Meols Cop is about 1 mile from the ground, connections via Manchester Piccadilly

A swift half?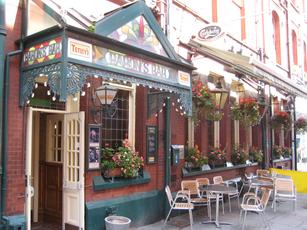 Ahead of last season's trip to Stockport, GTFC mascot and ale connoisseur Mighty Mariner shared his pub tips exclusively with Cod Almighty. He singled out Barons Bar (pictured) as providing the finest ale selection in Southport. It's 1.9 miles from the football (Lord Street PR8 1NZ), but with a beer roster like that it's surely worth the effort.

The Volunteer Arms (PR8 1DY) also came recommended. Mighty pointed out that if you're making a weekend of it, Southport has nine pubs in the 2012 Good Beer Guide. And if that's not enough, he added: "Allegedly the clubhouse has its own club real ale on." Dunno about you, but we've suddenly got a hell of a thirst on.

Know any other good pubs? Disagree with this? Shout up through the feedback form.

Britain's first-past-the-post electoral system has thrown up many curious results. In the 1950 general election the Labour party gained 1.3 million more votes than in its landslide 1945 victory, yet saw its parliamentary majority slashed from 145 seats to just five.



This factfile brought to you by...

Pete Green and Mark Shephard
Our Friends in the North
USA v Japan in the Olympic women's final
waiting for Bianca to go into labour