Cod Almighty | Article
5 January 2009
Fans respond to Barnet postponement by worshipping Prince of Darkness
FURIOUS Mariners supporters who wasted almost half a day travelling to Saturday's postponed fixture at Barnet are calling for the sacking of almighty God himself.
Referee Steven Cook allowed as much time as possible for the playing surface to thaw and the game to go ahead, but was forced to call off the game at noon as parts of the Underhill pitch remained frozen.
Inevitably, many Grimsby fans had already begun their journeys by this point and had to return home without watching a game of football, as tends to be the case when matches are postponed.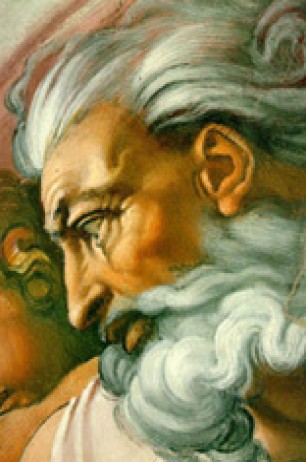 God: culprit for Barnet debacle?
And given the apparent necessity to blame someone for everything that happens these days even though some things just happen and they aren't really anyone's fault, mildly inconvenienced Town supporters are pointing the finger squarely at the heavens.
"It's a disgrace," said Ray Winkelman of Thesiger Street. "As the omnipotent creator of Earth and the Universe, the almighty one has to carry the can. Booooo, sort it, Gods!"
"He may be the benevolent celestial author of all that is holy and pure," wailed a disgusted Karen T Davies of Springway Crescent, "but by the time we heard the match was off we were already past Newark."
"At least keep people informed. Why couldn't there have been some notice earlier from God to let everyone know there was a doubt?" added Don Venkman of Legsby Avenue, the only street in Grimsby unable to receive weather forecasts. "Oh, if you're offering, yes, I wouldn't mind having my arse wiped for me as well."
Unconvinced by theological explications on God's omniscience, nature, and human free will, plucky Mariners supporters are refusing to go away quietly and watch the telly. After lobbying the Government for John McDermott to be made an MBE and North East Lincolnshire Council to do, um, something or other, we're not really sure what, but do it right away, the Grimsby faithful have already set up an online petition calling for God to step down from his position as ruler of all creation.
Satan pictured recently in his lair
Petition founder Dave Fearnley-Whittingstall of Estate Road Number 1 said: "God may have created the heavens and the Earth in six days but it's no good harking back to former glories. If He won't listen to seventy-one electronic signatures on an obscure website hosted in Wisconsin, it's time for Him to step aside and allow David Ross and Robbie Fowler to assume control of the Universe.
"From this day forth I forswear my divine creator and pledge to worship his satanic majesty Beelzebub. I could have gone to B&Q instead on Saturday. They're doing 30 per cent off strimmers and two for one on rolls of ornamental log edging.
"The fires of Hell may consume my soul in eternal torture and agony, but at this time of year clubs should never underestimate the value of undersoil heating."
"Let Grimsby fans down here?" responded infamous lord of darkness Satan when questioned by our reporter. "You must be joking, mate. Even we have standards."