Cod Almighty | Article
3 January 2019
Did you see Town away at Palace on the one occasion Dougie Freedman didn't demolish us? Not many did...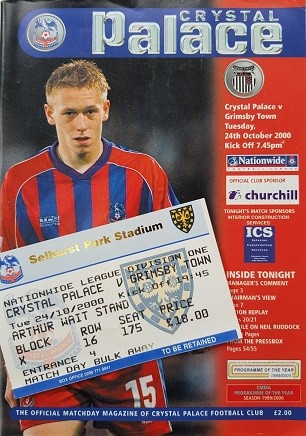 A highlight of being a Town fan over the past few seasons has been the away days. Travelling in numbers, we've been rewarded with some good results and memorable moments on and off the pitch. We should savour the experiences, particularly the victories. If we can climb the divisions again, we'll soon remember that as the size of the stadiums we visit increases, so too does the likelihood of a defeat.
My most prolific period following Town away was a spell living in London from 1995 to 2003. Apart from the famous '97-98 promotion campaign, all seasons were spent in the second tier. Punching above our weight on resources that were dwarfed by the rest of the division made for some challenging trips. At one stage I went four years without seeing Town win on the road.
Crystal Palace (A) proved to be a real bogey fixture during that period. Even when placed above them in the league, they had our number at Selhurst Park. One of the local train stations had a platform sign which carried the odd boast of "Welcome to Croydon, Home of Nestle". It should have added "Here be Dragons" to ward off eternally optimistic Mariners like myself. 5-0, 3-0, 3-1, 3-0, 0-1, 5-0, 2-0. Eight years, seven games, six defeats. Twenty-one goals conceded, with Dougie Freedman scoring at least thirty-five of these. Yes, thirty-five. He always seemed to be signing or re-signing for them just in time to play us.
The first in this series in spring 1996 was one of the worst defensive performances I've seen from Town and unthinkably we trailed 5-0 at half-time. Ivano was gone. Early season chants of "it's just like watching Juve" had been replaced by grim thoughts of "this is just like watching Town". The away section at Selhurst was positioned close to the noisy and merciless Holmesdale End support. Too close during trouncings like this.
Another defeat in the series was notable as the future Mrs Anderson's first Town game. Having been serenaded by several verses of 'Johnny Cockerill's Black and White Army' in a Dublin bar four years previously (long story, don't ask), I had finally gotten her to a game. The relationship was lucky to survive the September 1999 defeat and her next Town game wasn't until Wembley 14 years later.
The lone oasis in the Palace run came on a Tuesday night fixture in October 2000. Palace were in poor form and no doubt looked forward to our visit so they could get back to winning ways. Town had struggled under new boss Lennie Lawrence and despite two recent home victories, my fellow Mariners and I trooped to the expected Selhurst drubbing out of duty more than anything else that evening. Or perhaps it was the poisoned chalice of optimism – having endured the hammerings, what if we didn't go and Town somehow won?
Bradley Allen's winner was a beacon amid the darkness of that succession of humiliating defeats. A measure of payback for the blind devotion of the 150 assembled in the away section
Bradley Allen's winner in the fixture is not memorable or notable for its skill or dramatic timing. In fact it's the opposite on both counts. However, it's a goal that does not need either. It's a beacon amid the darkness of that succession of humiliating defeats. A measure of payback for the blind devotion of the 150 assembled in the away section.
It arrived midway through the first half and was one of those goals that leave the opposition defence yelling at each other and horrified fans screaming even louder. Alan Buckley may have departed but the players in his mould still styled good early chances for Livvo and Allen through moves involving slide-rule one-twos and flicks. The goal, when it arrived, was nothing like this. Danny Coyne's long clearance was misjudged by Palace's big keeper Kolinko and a centre-half. Perhaps they were shocked to be defending a route one Town attack.
Whatever the reason was for the mix-up, Bradley didn't hang about to find out. He scampered after the loose ball and clipped it in from a narrow angle. Our cheers were mixed in with disbelieving laughs as Bradley trotted over to our corner to lead the unlikely celebrations. The home side rarely threatened to spoil our fun and found Wales' number one in top form when they did.
We ended the game as deserved winners and revelled as boos rang out from the rest of the ground at the final whistle. The result obviously came as a shock to Palace. Although manager Alan Smith survived the defeat, in the days that followed it was speculated that he was to become another victim of the Grimsby Reaper.
Normal service was resumed in subsequent seasons, of course, with a 5-0 throttling and an almost respectable 2-0 loss. Looking back, this only lends emphasis and significance to Bradley's goal and the band of travelling stalwarts and London exiles who can say "I was there".
This article first appeared in The Mariner, Grimsby's matchday magazine, in 2015.